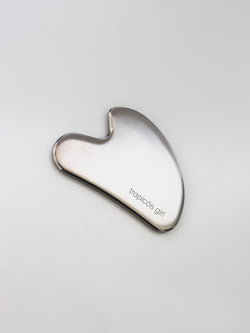 gua sha, stainless steel beauty tool
De-puff + sculpt with the TG Gua Sha. Stainless steel, anti-acne, break-resistant.

Gua sha is known in Traditional Chinese Medicine for lifting the skin and muscles in the face, increasing circulation, oxygenating cells for tissue regeneration, and releasing tension, while promoting a clear, acne-free complexion.
Why stainless steel? Stainless steel is anti-bacterial and does not contribute to breakouts, making it especially safe for acne-prone skin. 'Stone' Gua Sha beauty tools tend to be porous and can absorb product, contributing to more breakouts, and usually break when dropped.

Features:
- Anti-acne / Anti-bacterial
- Cool & Warm / can be used cold or hot
- Durable
- Sustainable

Benefits:
- Sculpts + enhances natural contour
- De-puffs + reduces water-retention
- Assists in lifting + firming skin over time
- Promotes tension relief
- Releases overactive muscles to help combat dynamic wrinkles
- Increases circulation + oxygenation

How to Use:
After applying the 03 Serum (always use after the 03 Serum, as the Gua Sha requires a lot of slip!), place the tool flat against your face as opposed to perpendicular. Start from the center of your face and scrape outwards. Use the small divot on the nose bridge, in between the brows, the jawline, and larger edges of the cheeks and forehead. Use at least three times per week to see real results.