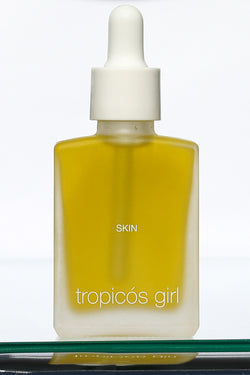 deep ocean cleanse + makeup removing drops

The cleanser will wash the day away, as if you swam in the ocean. A weightless, youth-enhancing oil that rapidly + deeply dissolves impurities, toxins, and makeup, leaving the skin's barrier bathed and balanced, for a hydrated, dewy, island glow.

30ml / 1 fl. oz
all skin types


Key ingredients:  sea minerals  /   coconut acids  /  neroli

Ingredients: *otto olea europaea (olive) oil), *caprylic/capric triglycerides, akoya nacre pearl powder, *signature scent (propriety blend of certified organic essential oils including magnolia and neroli)

*certified organic


Use: shake to activate. apply a generous amount of product and massage into dry skin on the face, neck and décolleté. Use small circular motions with your hands, starting from the chin, working your way upwards to your forehead, leaving your skin with a lifted, toned effect and a gentle lymph detox. Gently remove with a warm, wet soft cloth.

Use twice daily, morning and evening for best results. Follow with the toner and serum for pillowy, glowing, island skin.

Store in a cool, dry place.
100% Actives, 0% BS. The TG standard.